Can I Use Synthetic Oil In My Golf Cart? (Answered In Detail)
On most golf courses, golf carts are a necessity, as moving around on foot is both impractical and tiring.
18-hole, par 72 golf courses, which are the most common, can spread over up to 200 acres.
So, a golf cart is the most convenient way of transport, especially since most of them have room for your partners and golfing equipment.
They're fun to use and easy to maintain.
Still, while the maintenance is rather simple, it has to perform regularly, especially in the case of gas-powered carts.
Similar to passenger automobiles, they have an internal combustion engine, which means that they require oil to properly run.
As we all know, oil changes at timely intervals are essential for the efficiency, durability, and protection of the engine.
Using the right kind of oil also matters, and many cart owners ask the question can I use synthetic oil in my golf cart?
Can I Use Synthetic Oil In My Golf Cart?
In most cases, you will be able to use synthetic oil in the golf cart's engine.
However, you should always exercise caution, as some golf cart manufacturers advise using non-synthetic oil only,
Therefore, always check the golf cart's manual to make sure it's safe to use synthetic oil.
In general, synthetic oils can be used as long as they have the same viscosity as the regular oil you would normally use for the engine.
If that's the case, synthetic oil should perform in the same way as the non-synthetic type. In some circumstances, synthetic oil can even be better for the engine.
It's well known that they handle the heat better, so they should perform better in areas with a hot climate, especially when the golf carts are expected to run all day in the scorching heat.
Also, it's important to know that using synthetic oil doesn't alter oil change intervals.
What Type of Oil Does a Golf Cart Use?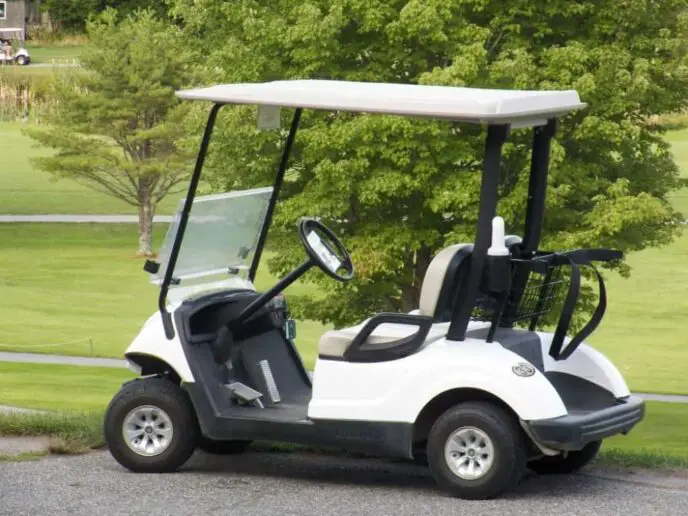 There are several factors that determine what type of oil you should use for a particular golf cart.
The two most significant ones are probably the brand of a golf cart and the climate conditions in which it operates.
Of course, as said above, always make sure to check which oil grade is right for your golf cart's engine.
Golf carts are not a small investment, and using the wrong type of oil means risking severe damage to the engine and facing a potentially very costly repair,
Brands
Each golf cart manufacturer specifies the type that should preferably be used for their engines.
For example, E-Z-GO advises the use of 10W-30 grade engine oil as do most of the other best-selling brands, such as Yamaha or Club Car.
Some of these manufacturers, such as Yamaha even have their own brand of oil, In those cases, it's always best to use the oil of the same brand as the engine.
Golf carts with internal combustion engines of older generations commonly use No products found..
For even better performance, you can look for these oil grades with extra additives, such as zinc, molybdenum, or phosphorus.
These additives work to provide an even tougher, thicker additive film that protects the engine parts.
Temperature
Another thing to pay attention to is the range of outdoor temperatures for which a certain type of oil is suitable.
The SAE 30 grade oil mentioned above, for example, is suitable for use in outdoor temperatures ranging from 39F (4C) to 100F (38c).
10W-30, which is most commonly used keeps engine operation on the ambient with temperatures in the -22F (-30C) – /95F (35C) range.
Some premium synthetic oils, such as 5W-30, can cover an even wider range of temperatures, making them a great option for golf courses in extremely hot or cold areas.
Why is It Important to Regularly Change Oil?
Even though golf carts commonly have smaller engines than cars, the maintenance procedure is not that different.
This is because the golf cart engines operate on similar principles as in other gas-powered vehicles, which means that scheduled oil changes will significantly improve both durability and performance.
The role of the oil is to lubricate the internal combustion engine, making sure that all the moving parts run smoothly.
While the oil primarily serves to reduce the wear and friction of the engine parts, it also fulfills other important tasks.
Oil cleans the engine, protects against corrosion, acts as a sealant and dispersant, dampens the shock, and cools the engine, helping it prevent overheating.
Knowing all this, it's easy to understand why you should never skip the scheduled oil change and use only the type of oil recommended for a particular golf cart engine.
How Often Should You Change the Engine Oil in a Golf Cart?
For the oil to efficiently lubricate and protect the engine it must maintain a certain level of viscosity and quantity in the oil tank.
This means that, after a while, it should be changed with a fresh batch.
Again, it's best to follow the manufactures recommendation when it comes to intervals at which the oil should be changed.
While these recommendations may vary a bit, most manufacturers advise the change of oil after 125 hours of operation or after six months, whichever comes first.
Pay attention to the fact that the first oil change, once the cart is still new, usually comes after a much shorter interval.
Also, even if the golf cart is not in use, the oil still should be changed after a certain period.
If you store the cart over winter, make sure to change the oil before you start using it again in the spring.
How to Check if the Oil in Golf Cart Needs to be Changed?
While you should stick to scheduled oil change intervals, it's always a good idea to check the oil level in the tank every month or so.
If the cart is heavily used, it's possible that the oil will need to be changed more frequently. Checking the oil in the golf cart engine is fairly simple.
Oil should always be checked while the engine is slightly warm.
Also, make sure that the cart is parked on a level surface and give it some time so the oil can drain into the crankcase.
Now, remove the dipstick, and clean it with a lint-free cloth. Then, reinsert the dipstick, and remove it again to check the oil level.
If it's in the safe range, between "low" and "full," you can operate the engine without an oil change. If it drops below the safe range, make sure to change it as soon as possible.
How Much Oil Does a Golf Cart Hold?
The capacity of the oil tank on the golf cart varies depending on the type of engine.
Be aware that most golf cart brands don't manufacture their own engines, but use ones provided by established engine manufacturers such as Kawasaki, Honda, or Briggs and Stratton.
So, always check the engine specification to get precise information.
Commonly, golf carts will hold around 1 to one and 1 and 1/2 quarts of oil. E-Z-Go golf cart holds around 1 and 1/2 qts, while Yamaha holds around 1 qt.
Knowing oil tank capacity is important as overfilling can be as dangerous as operating the engine without the oil.
When there's too much oil, it can overflow and come in contact with the crankshaft, which can result in the air penetrating the oil flow system.
To be on the safe side, never fill up the oil tank to more than 90% of capacity.
Do Electric Golf Carts Need Oil?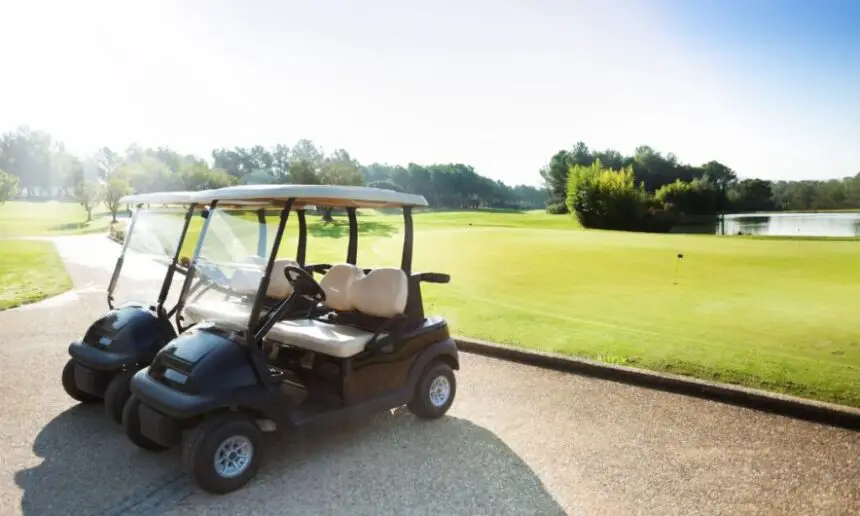 All the information laid out above is related to golf carts with gas-powered engines.
But, does the question "can I use synthetic oil in my golf cart" also need to be considered when it comes to electric golf carts?
While they still need some regular care, the level of maintenance for electric golf carts is much lower than the one for those featuring gas-powered internal combustion engines.
One of the reasons for this is that they don't need engine oil, so if you own an electric golf cart, you'll never have to worry about changing the oil.
However, while the electric engine doesn't need oil, you'll still have to regularly lubricate the joints, especially the suspension pieces and the steering wheel.
Conclusion
Everyone who owns a car knows how dangerous it can be to neglect regular maintenance tasks, including the oil change.
When it comes to maintenance, golf carts are not much different.
Skipping the scheduled oil change can cause some real damage to the engine and take a big chunk out of your budget for the repair cost.
Besides keeping up with the oil change schedule, it's also important to know what type of oil to use, as the wrong one can cause serious issues.
So, checking the manufacturer's manual and making sure you're using the right grade of oil will keep your cart running and potentially save a lot of headaches and money.
Commonly, you'll also be able to use synthetic oil for golf carts, which can provide even better efficiency in protecting and lubricating the engine.
Still, only do this when the manufacturer has OK'd it.