Who Makes Western Golf Carts? (Solved!)
Purchasing a golf cart is no small investment and you definitely want to make sure that you'll get your money's worth.
Therefore, most people, when picking a golf cart, go with established brands, with years of experience in the industry, and a large number of satisfied customers.
Commonly, the carts you'll see at the golf courses are produced by the three largest manufacturers, E-Z-Go, Club Car, or Yamaha.
However, not so long ago, there was a fourth company that consistently put out golf carts that matched the quality of the Big Three.
Even though they're not actively manufactured anymore, golf carts made by Western are still held in high regard by golfers and anyone else who came in contact with these vehicles.
Below, I'll write in detail about who makes Western golf carts and all the other things you may want to know about this company and its products.
Who Makes Western Golf Carts?
Western golf carts were made by Western Golf Cart Manufacturing. The company was located in Desert Hot Springs, California, and was founded back in 1981.
However, true success came in the 90s, when Western golf carts became widely known for their original design and custom accessories.
During the time it was active, the company put out 8 different models of golf carts.
They were mainly based on the E-Z-Go chassis, but due to the high level of customization were considered to be in a premium class of their own and often more expensive than stock models offered by other established manufacturers.
The price range at the time was between $5,000 and $20,000.
Western golf carts were even owned by some of the 90s biggest stars, including Michael Jackson and Deion Sanders.
The company is also recognized as one of the pioneers and early leaders in electric golf cart development.
Can You Purchase Western Golf Carts Today?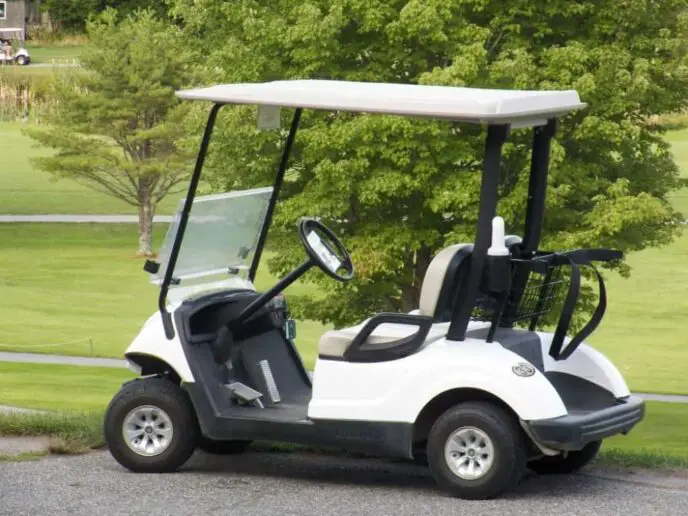 As I explained above, Western Golf Cart Manufacturing is not currently in operation today.
Therefore, new carts, straight off the production line, are not available on the market today.
Still, there are companies, such as JR Thomas Western Golf Cars that offer remanufactured and refurbished models of Western golf carts.
If you have your heart set on one of the Western models, this is a great way to get a cart that is practically as good as new.
Still, these golf carts commonly come at a fairly steep price.
For example, Western Elegante LX will set you back nearly $30,000 with standard features only, while Western Model 400-4 GT for four passengers is available at around $18,000.
Similar to the original Western models, these carts have plenty of customization options.
For an extra cost, you can add extra features such as a custom wood steering wheel or a Lithium Ion battery pack.
What About Used Western Golf Carts?
Due to its unique designs, high-quality craftsmanship, and customized features, Western is one of the most sought-after brands in the used golf carts market.
Many people are interested in buying a pre-owned Western golf cart, even if it's 20 or 30 years old, mainly because it offered some things that are rarely seen in modern golf carts.
For example, woodgrain dash and stereo system were standard features on most Western models, which is something you will hardly find in the basic versions of contemporary golf carts.
Furthermore, Western products featured a classy and upscale design, making them stand about among both golf carts manufactured at the same time and the modern ones, manufactured today.
A lot of golfers happily choose older and used Western models over new golf carts.
One of the biggest reasons is that they can easily be refurbished and fixed up to fit the modern golfer's needs.
How to Determine How Old is a Western Golf Cart?
I already established that there is a lot of interest in pre-owned and refurbished Western golf carts.
Of course, when deciding on the purchase of a used Western cart, the first thing you will look at is how old it is.
While most used car dealers will provide you with accurate information on this, there are still some shady players in the business, with less-than-honorable sales practices.
Therefore, it's always best to check the year of the production yourself.
Finding out how old is a particular Western golf cart is fairly easy. Each Western vehicle has a serial number stamped into the rear wheel frame underneath the seat on the passenger's side.
Serial numbers include the combinations of letters and numbers and those numbers point to the production date.
Plus, if you get the cart's original handbook, it should also contain information on the production year, make, and model.
What are the Western Golf Cart Models?
At the height of its success, Western Golf Cart Manufacturing used to put out around 2,000 golf carts every year.
Many of those carts are still in use, which is a testament to their quality and solid craftsmanship.
A lot of these models were used for purposes other than driving on golf courses, such as means of transportation in resorts and retirement communities.
There are four different generations of Western golf carts.
The first generation has the number 100 in the model designation, followed by 200, 300, and 400 in later iterations.
So, if you, for example, have a 400-4 GT model, that means that it belongs to the latest generation of Western golf carts.
Conclusion
For a while, Western golf carts belonged to the very top tier of the industry, along with carts produced by some of the more established manufacturers.
Unfortunately, the company is not operational anymore, and, for a lot of people, it's a real shame as Western golf carts stood about among the competition due to the high-quality build, classy design, and abundance of custom features.
Still, if you're a fan of this type of golf cart, you can get them at one of the companies that are in the business of remanufacturing old golf carts.
Even when used, Western carts still have plenty to offer and will certainly attract a lot of attention on every golf course.