Club Champion vs. GOLFTEC – A Comparison
Stock golf clubs that you can purchase in any golf equipment store are perfectly fine for any casual golfer.
However, if you're more serious about the game and want to maximize your golfing potential, you should consider getting your golf clubs custom fitted,
With custom-fitted clubs, you'll be able to almost immediately feel the difference in your performance as your shot become more powerful and accurate.
Still, with all the places offering these services, it's not easy to decide who to put your trust in.
If you're unsure which service to choose, it's always a good idea to go with established companies with a proven track record.
Two companies that certainly fit this description are Club Champion and Golftec.
Below, I'll take a closer look at these two providers of club fitting services and compare Club Champion vs Golftec to see which one may be a better option for certain users.
So, let's dive in!
Club Champion Overview
Established in 2010, Club Champion has quickly earned its place as one of the premium golf club fitting services in the United States.
Today, the company is present in every major US market, offering tour-quality fitting with the help of some of the most knowledgeable experts in the field.
Club Champion is best known for its incredible range of available club heads, shafts, and grips, from all the established golf brands.
This unrivaled offer allows the company to provide its customers with more than 50,000 club combinations while matching the process offered by other retailers in the business.
The quality of service is guaranteed by state-of-the-art tech which helps Club Champion's fitters accurately assess and analyze your swing so that they can come up with the best solutions to make your game better.
The service is known to be a bit pricey, but, in most cases, it's worth every penny.
Positive
top-notch fitting service
professional, knowledgeable, and unbiased staff
cutting-edge technology for accurate analysis of customer's game
a wide range of club heads, shafts, and grips from all the major brands
Negative
fairly expensive fitting service
no golfing instructions and lessons offered
fewer locations across the country than some of the main competitors
Golftec Overview

Golftec has been one of the most trusted companies in the golf club fitting business ever since it was established in 1995.
Today, the company is headquartered in Denver and features more than 200 retail locations across the world.
While most of the stores are in the US, Golftec is also present in China, Japan, Canada, Singapore, and Hong Kong.
With the primary mission statement "To Help People Play Better Golf", Golftec focuses not only on club fitting but also golf instructions to help their customers improve their game, which is great for beginners.
The company uses its own custom fitting system equipped with cutting-edge technology to match each customer's swing to the specifically tailored club that would be the best possible fit.
Their service offers great value for your money but has a somewhat slimmer offer of available golf club brands, especially compared to some of the main competitors.
Positive
many available retail locations
one of the more affordable golf club fitting services
they also offer golf lessons with experienced instructors
custom-made club fitting software for the accurate swing analysis
Negative
limited customizability
the range of available brands and clubs components could be wider
Club Champion vs. Golftec – What are the Differences?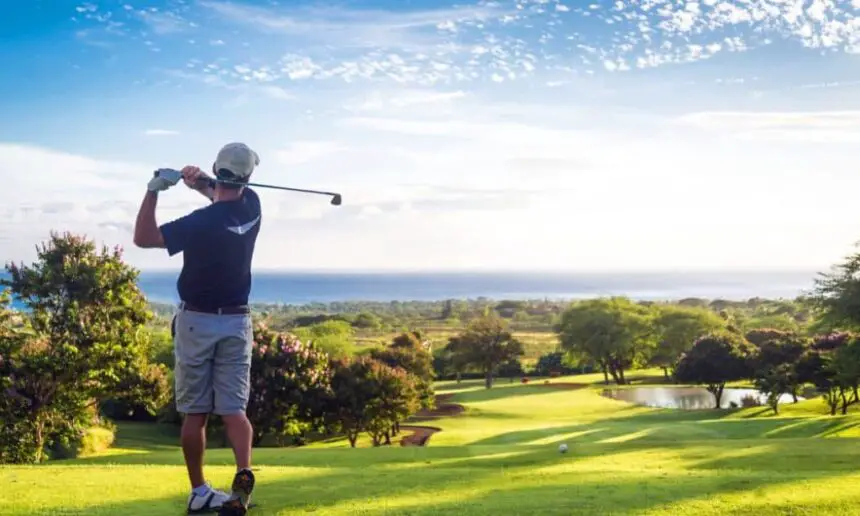 Both Club Champion and Golftec undoubtedly belong to the very top of the list of golf club fitting services in the United States.
Each company uses highly sophisticated software systems to analyze its customers' games and propose the best solution for maximizing their golfing potential.
Also, in each store operated by these two companies you're likely to find experienced, knowledgeable, and unbiased fitters that will help you fit your club so that it delivers significant improvements to your game.
However, when choosing which service to go with, you'll likely be more interested in a Club Champion vs. Golftec comparison that highlights their differences.
Below is a brief overview of what set these two companies apart in every major aspect of golf club fitting service.
Golf Club Custom Fitting
At both services, the first thing a customer goes through is the analysis of their swing, so the fitters can get some reliable data to work with.
However, each company uses its own software for this analysis.
Club Champion captures the performance with the golfer's current club using the TrackMan Pro and SAM PuttLab software systems, while Golftec utilizes its own proprietary software called TECFIT.
The fitter uses data to figure out areas of the game that needs improvement.
After analyzing the data, the fitter will commonly suggest several custom combinations and analyze the golfer's swing with each of them to find out which works the best.
At Golf Champion, all the data from the analysis is also available to golfers, while at Golftec that's not fully the case.
Both companies are known for employing experienced and expert fitters, although this may depend on the particular location.
Available Range of Golf Clubs
While both companies have plenty of available club components to combine to create the best custom-fitted golf club, the advantage here is clearly on the side of Club Champion.
They stock club heads, shafts, and grips from over fifty brands, featuring almost every major brand present in the US market.
This allows Club Champion to work with over 50,000 club combinations to fit the perfect set for a particular customer.
On the other hand, the range of available golf club components at Golftec is not that wide, although they still have most of the established brands such as Titleist, Callaway, Mizuno, TaylorMade, or Ping.
However, they do offer a full price match guarantee, so you won't pay more for any club than at a regular retailer.
Both service claim to be brand agnostic, meaning that they will work to find the best fit for you regardless of the brand.
Pricing
While Club Champion has an edge when it comes to the range of golf clubs, the Golftec's advantage lies in its competitive pricing.
Club Champion is known as one of the most expensive services in the business while fitting your club at Golftec will be much easier on your budget.
The latter also offers an option of trading your old club for cash if you decide to purchase a new club from them.
To get an idea of how their prices match up, below is the list of current prices for the most common fitting services.
Of course, always both companies often offer various promotions and discounts, so always check if there's one ongoing.
| | | |
| --- | --- | --- |
| | Club Champion | Golftec |
| Driver fitting | $175 (1.5 hours fitting of one driver) | $125 (1 – 1.5 hours) |
| Iron fitting | $175 (1.5 hours) | $125 (1 – 1.5 hours) |
| Wedge fitting | $100 (1 hour) | $125 |
| Full bag fitting | $400 (3.5 hours) | $250 (2.5 hours) |
Locations
Needless to say, a big part of deciding on one or the other golf club fitting service is how close they are to where you live.
Club Champion and Golftec both have plenty of locations across the United States.
However, you're much more likely to find a Golftec service in your area, as they feature more club fitting centers compared to Club Champion.
Golftec currently has more than 200 retail locations under its umbrella.
They also have an international presence, with locations in Canada, Japan, China, Singapore, and Hong Kong.
Club Champion is present at around 100 locations, most of them in the US, but they also have a few in Australia and United Kingdom.
Unlike Golftec, many Club Champion locations are situated within other larger retail stores or golf clubs.
For a full list of locations for both companies, you can visit their official websites.
Golf Instructions
Another major difference between the two companies is that Golftec, unlike Club Champion, also offers golf lessons in addition to their fitting services.
In fact, it's probably the primary focus of their business.
Besides working with expert coaches to improve your game, at Golftec, you'll also have access to the latest golf training tech, such as OptiMotion, motion measurement technology, and video analysis.
Similar to fitting services, coaches use this technology to identify key areas that need improvement and create a custom lesson plan for each student.
Conclusion
Getting your golf clubs custom fitted is definitely worth considering if you're looking to up your game.
There are many services out there that can do a good job at this but the two that you surely can't go wrong with are Club Champion and Golftec.
Both companies boast years of experience in the business, feature the latest technology, and employ expert fitters that will help you with all your fitting needs.
Which one you will opt for will mostly depend on your personal preference and the availability of a certain service in your area.
Golftec has more locations and is significantly cheaper, probably offering better value for money.
On the other hand, if you're looking for a better selection of different brands and higher customizability, then Golf Champion should be your choice.